Management Philosophy
H-one Group Philosophy
Management Philosophy
To Realize Our Dream
We should conduct ourselves with Respect and
Trust for each other while Challenging one
another to strive for continuous improvement
that enables us to become a company
that contributes to the world.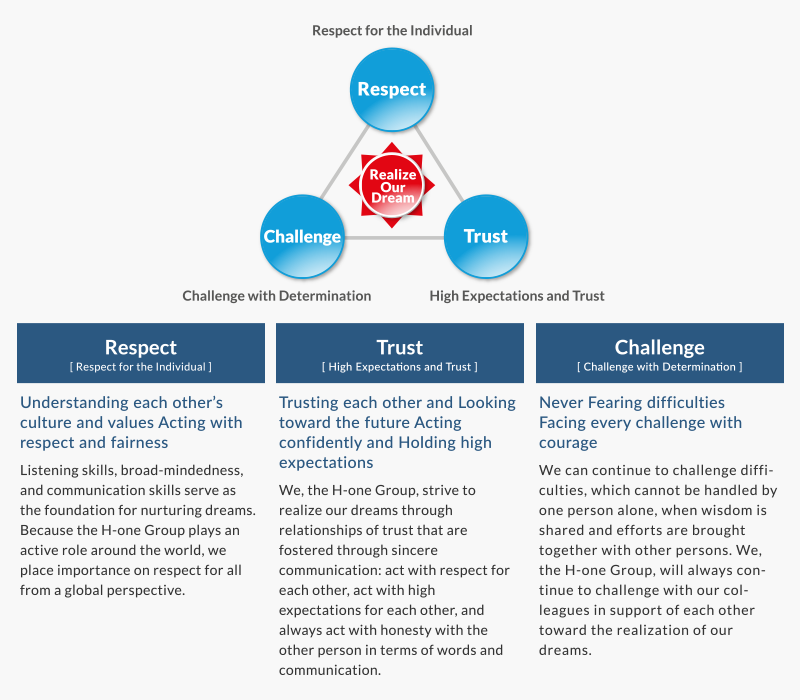 Mission Statement
We will provide attractive products and services
to exceed the expectations of the clients around the world.
The key to realizing our dreams is to utilize a process in which mutual understanding and respect builds a culture of honor, thereby fostering mutual trust. This culture serves as the foundation upon which we face any challenge. In the middle of a triangle formed with each of these three keywords at the vertices is the central concept of realizing our dreams—in other words, respect, trust, and challenge are the indispensable qualities by and through which our dreams are realized and achieved. When all of us who work at H-one Group believe in this management philosophy and put it into practice, we continually demonstrate that the whole is greater than the sum of the individual parts when growing our business further more.
Our management philosophy and mission statement are the foundation of sustainable growth. The spirit embodied in our philosophy remains to be the lynchpin upon which we base everything we do, from our long-term strategies to daily efforts as we seek the right path for our business activities.
Code of Conduct
Always embrace hopes and dreams.
Set high objectives and continue to challenge ourselves.
Value and care for others.
Love your job and make sincere efforts.
Manage your time wisely and be open-minded to change.
Provide a safe and pleasant workplace.