Die Technology
Automobile OEMs have been expanding the use of high strength steel (HSS) to further reduce vehicle weight and improve strength, which makes parts manufacturing more difficult and complicated. To support such a trend, we engage in relentless R&D.
H-one has been actively introducing die simulation technologies since the early days of HSS. We have accumulated know-how by verifying and comparing between simulation results and physical stamped parts, and such know-how has been incorporated into die design and production.
Product design data are also shared by and linked between the die designing and production process and the welding line simulation and robot programming process, so that the lead-time to completion of respective processes is shortened.
Die/Stamping simulation
Stamping simulation is performed before die production to confirm that parts can be stamped as intended by the product design data and that no cracks and wrinkles that may affect product strength occur.
During simulation, the product design data and our internal criteria defined by our accumulated know-how are utilized to digitally guarantee the product accuracy before physically producing the die.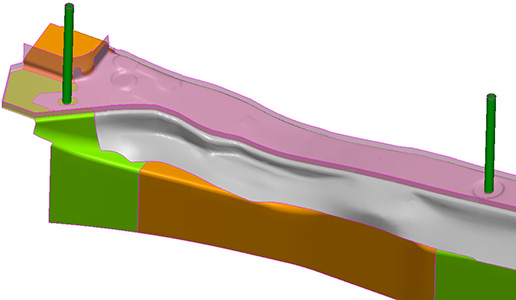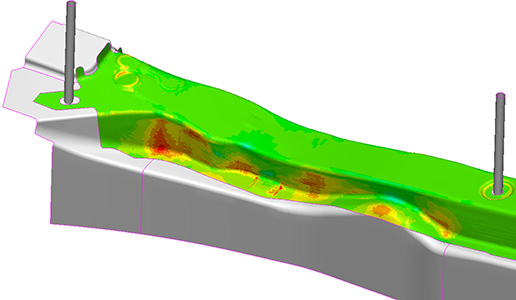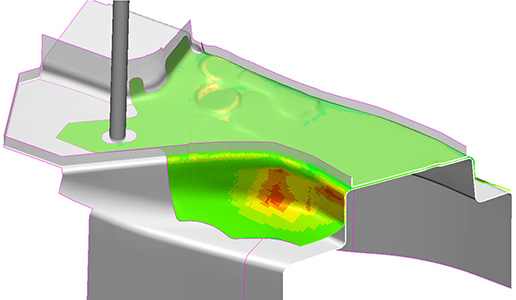 Our die production process employs simulation for springback analysis (NOTE1) and virtual finetuning (NOTE2) to shorten the die production lead-time and enable the swift transition to mass production.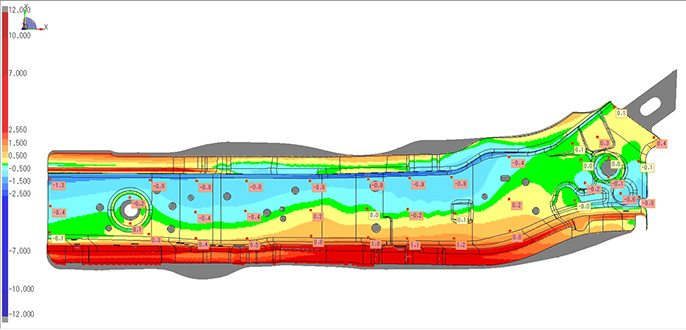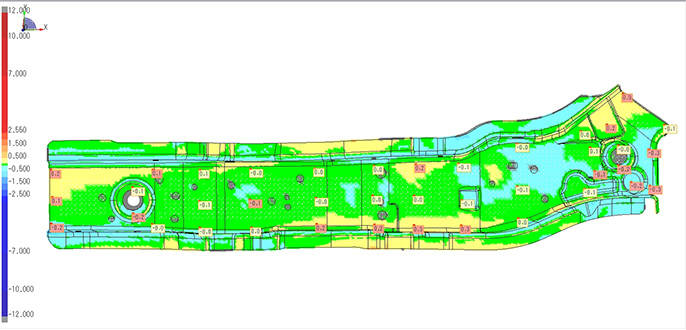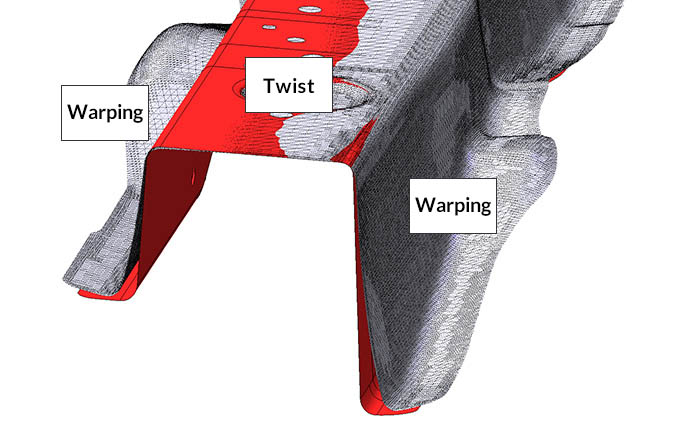 NOTE 1:

Springback is the "force to return to the original shape" (elastic recovery) that acts on the stamped metal sheet. The amount of springback is precisely calculated and simulated during die designing.

NOTE 2:

A die is finetuned so that the stamped part is formed as intended by the product design data. Finetuning requires matured skills and craftmanship as well as a deep understanding of dies and stamping processes.
Die designing
In the die designing phase, 3D solid designing is employed to guarantee stamped part quality and mass-producibility of the production process.
Automation of 3D solid designing techniques has been developed to create reliable drawings and shorten the designing period.
In addition, die strength and rigidity are digitally analyzed to ensure the quality and reliability of dies.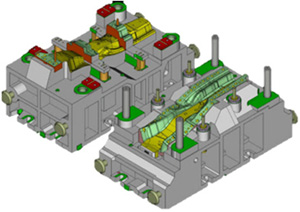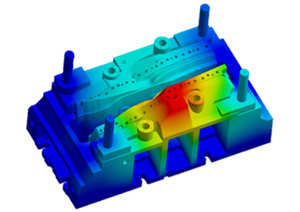 Die production
Dies are machined without human involvement by linking the equipment with the solid design data. In the cutting process, for example, the CAM system creates NC data from the solid data to realize automated die production.
H-one is consistently studying and adopting die cutting technologies that can maximize the benefit of automation so that we can produce high quality dies at high efficiency.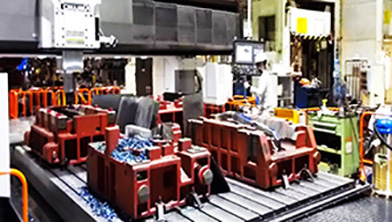 In the die finishing process, an exclusive mechanical press machine is used to run trials to verify the completed die dynamically and statically before the die is installed in the production stamping machine. In this trial phase, stamped parts are verified and compared against the simulation data and the product drawing so that the quality maturation period is shortened and smooth transition to mass production is achieved.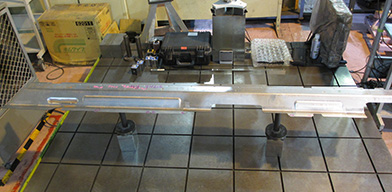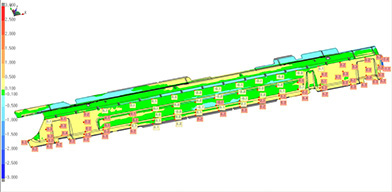 Non-contact 3D measurement
In the course of material evolution and geometry complication, we ensure that our products meet clients' requirements using non-contact 3D measurement instruments that can measure dies and analyze different processes of a stamped part and an assembled component.
Visualization by digital measurement data helps us to identify problematic areas and apply countermeasures swiftly and accurately. This technique contributes to development lead-time reduction and high-precision body frame manufacturing.