Development
High-performance frames, which are produced with our accumulated know-how and simulation technology, achieve both collision safety and body weight reduction of the automobiles.
H-one Frames play critical roles to ensure safety, comfort, and environmental performance of the automobiles. Our advanced R&D competence and proprietary knowledge are fully adopted in our stamping technologies and welding technologies, which enable production of high-quality framework parts with the world's highest-level performance.
Integrated systems from upstream R&D to product designing, production engineering, and mass production
Research and Development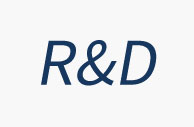 Stamping/welding technologies for difficult-to-form materials are researched to keep pace with the evolution of mobility and materials. The scope of research is not limited to framework parts but encompasses the entire materials engineering field.
Product Designing
Body frame performance is analyzed by computer simulation to understand collision, strength, and rigidity performance at an early stage. The optimum product designing is then proposed based on the simulation result.

Die Technology
Stamping Simulation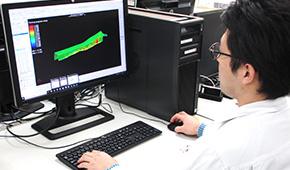 Simulation analysis is repeated before die production to make sure that the part can be formed as intended according to the product design data without cracks or wrinkles.
Die Designing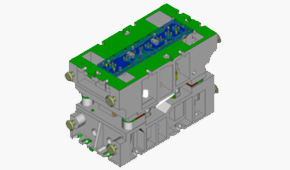 3D solid data are utilized to create the die design data. The die strength and rigidity are digitally analyzed, and the resulting data are applied to high-strength steel stamping as well.
Die Production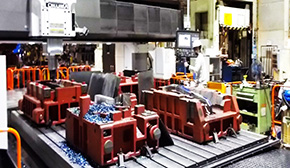 State-of-the-art equipment uses the die design data and machines and finishes the die. The die is inspected for its quality and then installed in a stamping machine.
Welding Technology
Welding Robot/Line Simulation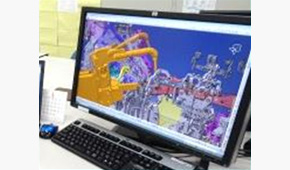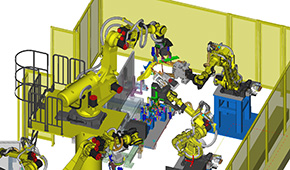 Simulation of an entire welding line is repeated to maximize the welding robot performance and enable difficult and complicated welding.
Our engineering know-how data are utilized to adjust the welding line control program and the robot program.
Welding Line Installation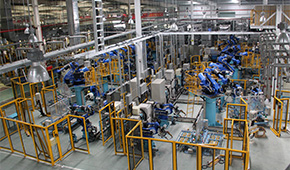 Welding simulation and other 3D verification results are utilized to prepare welding equipment and install the welding line in a short time.
Production
(Stamping & Welding process)