Industrial Health and Safety

Industrial health and safety promotion system
We have established the Safety and Health Committee on a company-wide basis and at each business site to promote safety and health activities. Each committee, in which discussions and reports are regularly held to prevent industrial and traffic accidents, implements various activities with the aim of creating safe workplaces.
| | FY2019 | FY2020 | FY2021 | FY2022 |
| --- | --- | --- | --- | --- |
| Minor injuries | 9 | 18 | 6 | 11 |
| Number of Absence Cases | 2 | 3 | 6 | 2 |
| Annual Average Number of Workers | 1,753 | 1,618 | 1,619 | 1,594 |
Activities to prevent industrial accidents
Danger sensing training/drill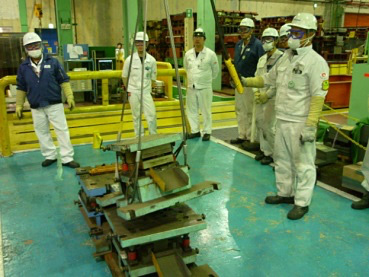 In order to prevent industrial accidents, danger sensing training/drills are conducted at production sites. Hazardous events that may actually occur are re-created by using a crane or stationary spot welder to learn points for working safely, which is connected to raising safety awareness.
Safety gatherings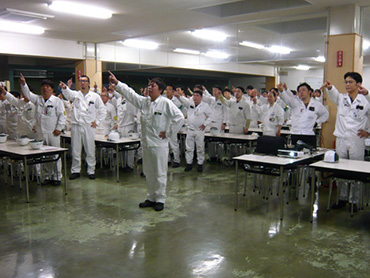 Along with National Safety Week, a safety gathering is held at each business site for raising awareness to prevent industrial and traffic accidents and to act safely. From among safety slogans solicited in-house, excellent work is commended at the same time, and safety awareness is raised by pointing to and calling out the excellent slogans together as a whole at the end of each gathering.
Medical checkups of employees
Every year, all employees undergo medical checkups (lifestyle-related diseases preventive medical examination). Regarding the findings from the examination, with advice from our industrial doctor, secondary examinations are conducted as needed. Confirmation of work conditions is also conducted.
Prevention of overwork
In order to prevent long working hours, initiatives are promoted based on the purpose of laws and regulations, such as requiring employees whose overtime exceeds 80 hours to undergo an interview with the industrial doctor.
Health management activities
Mental health classes
As part of mental health measures, we hold mental health classes for employees. In the classes, where instructors are invited from outside the company, we learn how to manage stress so as to prevent mental illness.
Employees who have subordinates learn the importance of management and instructional methods to motivate subordinates.
Traffic safety activities
Video KYT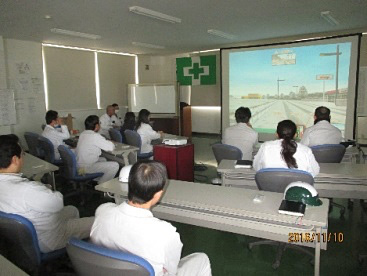 In order to prevent traffic accidents, hazard prediction training (KYT: Kiken Yochi Training) is implemented by using video simulation. As the video clips used for training vary according to situation, such as snowfall and urban areas, attendees can objectively learn about their own driving characteristics, which is connected to improvements in hazard prediction abilities for driving.
| | FY2019 | FY2020 | FY2021 | FY2022 |
| --- | --- | --- | --- | --- |
| Number of traffic accident perpetrator cases during operations | 2 | 0 | 1 | 0 |
Emergency preparedness
Anti-disaster training/drills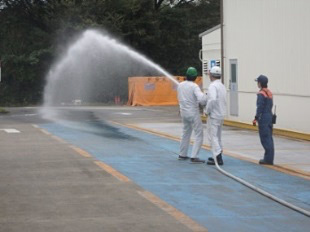 Every year, anti-disaster training/drills are conducted under the assumption of earthquakes and fires at respective business sites.
In order to minimize damage and perform recovery promptly when earthquakes, fire or other disasters occur, training/drills are conducted with the participation of all employees so that they will take action appropriately in case of an emergency.
H-one Health management initiatives
Health declaration
Having the Management Philosophy of "To realize Our Dream We should conduct ourselves with Respect and Trust for each other while Challenging one another to strive for continuous improvement that enables us to become a company that contributes to the world." we consider that each employee playing a role in realizing our dreams is the most important asset of our Company.
Each employee's "health both physically and mentally" is the foundation for our Company's growth. As a company, we will strategically and proactively work to maintain and improve the health of our employees in order to realize improvement in productivity and corporate value. We will also realize safe and comfortable workplaces, where employees can feel satisfaction in continuing to work in good health, by practicing "health management."
April, 2021
Atsushi Kaneda
Representative Director, President and Chief Executive Officer
Specific objectives based on health issues
Strengthen health management
We will promote understanding of the health conditions of employees by regular medical checkups and improvement in the consultation rate of persons subject to secondary examinations so employees can feel satisfaction in continuing to work in good health.
[Secondary examination rate "90%" or more]
*

We will continue to address such initiatives for general employees, such as 100% acquisition of paid holidays and toward eradication of long working hours as well as toward stress reduction.