Research and Development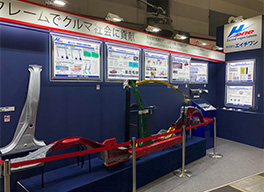 An effort to reduce vehicle weight has been made to improve the basic vehicle performance of "run, turn and stop." Now, an "environmental" aspect is added to the performance requirements, and weight reduction has become the top priority for all car manufacturer.
Automobile bodies consist of relatively easily crushable parts and tougher parts. The crushable parts help dissipate and absorb the impact of a collision with another vehicle and help the passengers survive, whereas the tougher parts that are hard to deform provide sufficient strength to protect passengers against injury.
H-one has been actively using high strength steel (HSS) from early on to satisfy conflicting body frame requirements, which are vehicle weight reduction and collision safety. HSS requires more advanced stamping and welding technologies than general steels, but we have overcome these challenges and have established high-precision mass production technology for super-HSS that is more difficult to process.
In recent years, our R&D focuses on the mass production of metal separators for fuel cell vehicles and the forming and joining of aluminum and other nonferrous materials to facilitate the realization of multi-material body frames in the future.