VISION 2030

The mission of VISION 2030 is "to create value" and to be a company that sends and provides "valued products."
We will aim for sustainable growth of the H-one Group by bringing respective vectors into alignment with this VISION, and contribute to the future of mobility society.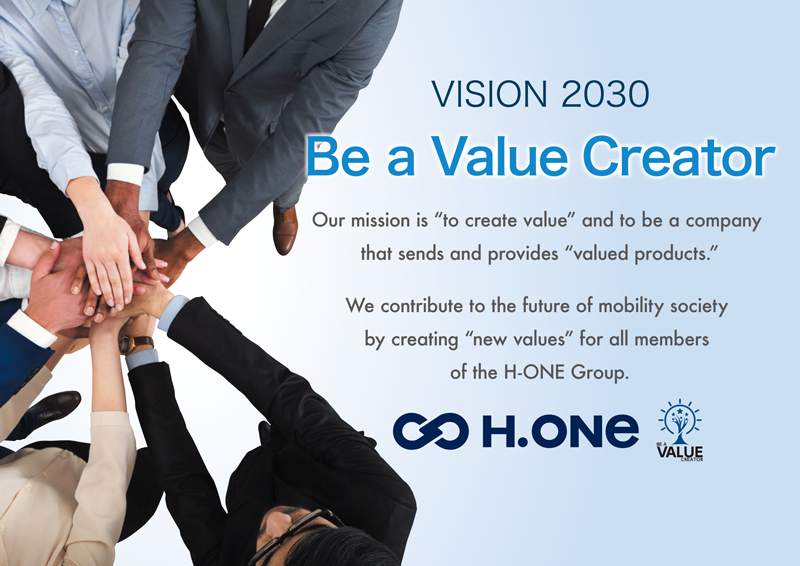 Roadmap toward 2030
In the automobile industry, the movement toward electrification is accelerating in response to the trend in stricter global environment regulations, while at the same time the sense of values related to automobiles are undergoing a change as represented by CASE and MaaS.
In order to take on the challenge of such revolutionary times in the automobile industry, we have redefined the H-one Group's core competencies (strength and appeal) as follows.

Toward VISION 2030, we will strengthen existing businesses and develop new products based on ESG initiatives and foster a culture of value creation. Based on our core competencies and ESG, we will add "Think Value" for all members of the H-one Group to create new value.
With this process in mind, we aim to demonstrate our presence in the automobile industry and create value that is demanded by society and useful to society in order to be a "Value Creator" through them.
Creation of new businesses
Provision of new products and new services demanded by the world.
Multifaceted value provision
Provision of attractive products that anticipate customer needs in various fields.
Strengthening of existing businesses
Strengthening of material processing technologies, i.e., technological capabilities for metal forming, welding, and die making.
Fostering of culture of value creation
Fostering of a corporate culture that brings about creativity with hospitality and realizes customer needs by challenging the realization of dreams.
Growth together with society
Contribution to sustainable society through environment, society, and governance (ESG) initiatives.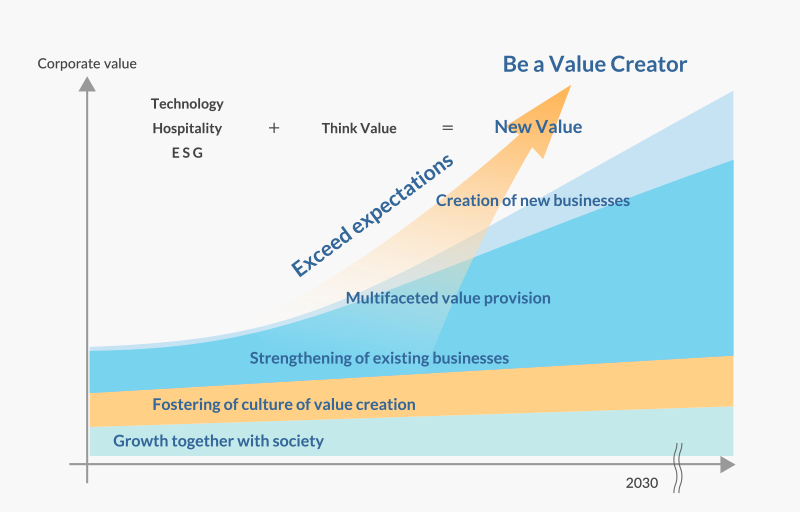 Corporate slogan
Exceed expectations
In addition to VISION 2030, we have set out a new corporate slogan. What is envisioned is to always exceed expectations. We will continue to produce results that exceed expectations and meet the diverse needs required of the H-one Group.