Labor Practices and Human Rights

About respect for human rights
Based on the concept of "respect, trust, and challenge" set forth in our management philosophy, we value the attitude of respect for each other, understanding each other's culture and values, and acting with respect and fairness. In addition, we promote the creation of bright workplaces where everyone can work lively, without discrimination and unfair treatment for reasons of gender, age, nationality, disability, etc., as a matter of course.
Promotion of female participation
With the aim of building an environment in which diverse human resources can play an active role, we promote various activities, such as active female recruitment, awareness-raising activities relating to diversity for managers and supervisors, and creation of an environment where everyone can work in comfort.
Our target of female employment:
More than 10% of female new graduate employment out of total new graduate employment every year.
Achievement:
| | FY2018 | FY2019 | FY2020 |
| --- | --- | --- | --- |
| Number of new graduate employment | 24 | 33 | 27 |
| Number of female employment (included to the above) | 6 | 9 | 7 |
| Percentage of the female employment | 25% | 27% | 26% |
Promotion of senior employment
We consider that experienced employees are valuable human resources with a wealth of experience, techniques, and skills. We continue to operate a post-retirement re-employment system.
In April 2018, a significant revision was made to the system centering on treatment, and its operation was renewed under the name of "regular continuous employment system" so that system users can work with greater satisfaction.
Barrier-free employment and management system
Based on the purpose of the Act on Employment Promotion etc., of Persons with Disabilities, we have taken a proactive stance in employing the physically and mentally challenged, and people with disabilities are playing an active role in various departments. We also promote initiatives to support people with disabilities through regular information exchanges on working conditions at workplaces with the permanent working life counselors and recruitment promoter stationed at business sites and the head office, respectively.
Our activities:
Placement of permanent job coach and working life counselors for persons with disabilities
Regular verification of implementation status regarding reasonable accommodation
Holding a seminar for managers regarding employment and management for persons with disabilities
Active employment of people with disabilities
Our status of employment:
| | FY2018 | FY2019 | FY2020 |
| --- | --- | --- | --- |
| Number of employees with disabilities | 24 | 25 | 27 |
| Employment rate of persons with disabilities | 2.45% | 2.38% | 2.56% |
Work-life balance
We have established and maintain a system that enables diverse work styles according to individual values and family circumstances.
We continue to improve the work environment so that a balance can be struck between work and private life not only through the promotion of acquisition of paid holidays, but also with use of a refreshment leave system that enables continuous acquisition of paid holidays, childcare or family-care leave system, short-time working system, etc.
Education and training
We provide education regarding human rights in various situations, such as rank-based training and new employee training. We educate employees about the basic concepts for preventing various forms of harassment and unjust discriminatory words and actions in workplaces through awareness in compliance-related study sessions that are held on a yearly basis. In addition, those who are promoted as managers are provided with training focusing on relationships with subordinates so that daily workplace management can be performed appropriately. There is also training for those who are assigned overseas, and education is provided as required according to rank and role.
Certification of "a company practicing diverse work styles (Platinum)"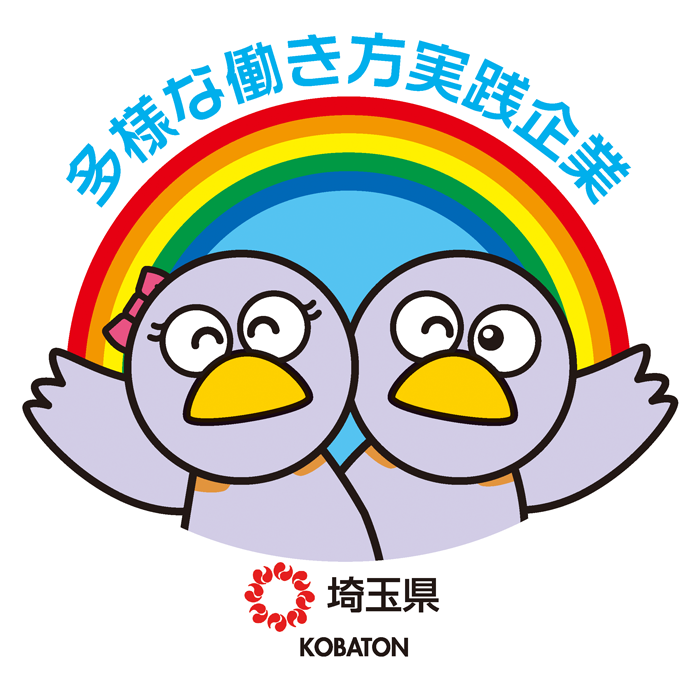 On August 1, 2021, we were certified by Saitama Prefecture as a "Platinum" company practicing diverse work styles. This was recognition for our continuous commitments such as "women who continue to work after giving birth;" "active promotion of parental support for men;" and "shorter working hours system that exceeds legal requirements that are now firmly established in our workplaces."